"If Tyranny and Oppression come to this land, it will be in the guise of fighting a foreign enemy." -James Madison, fourth US president (16 Mar 1751-1836)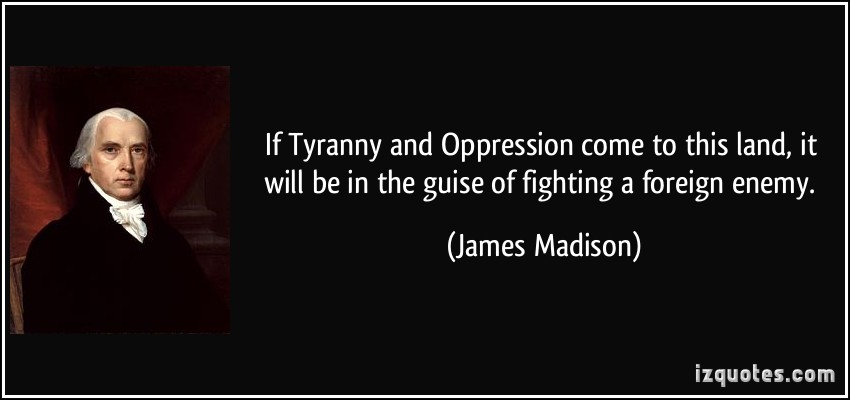 Power corrupts, right?  There is no greater time that those in power have the ability to flex and exert this power than in the name of some enemy.  This lends itself to abuses.  This particularly notable among the most corrupt.  But, also among even the least.  But then, maybe I am an optimist.
When I look back on history, I see that there excesses  even when it came to Lincoln.  Before that there was Jackson's removal of Indians east of the Mississippi.  But, more recently, we have the internment issues that occurred during World War II at the hands of FDR.
Closer to contemporary we have the Patriot Act.  There is little doubt this was enacted to combat a very real threat.  There is even less doubt that it has done a lot of good.  But, then there are the excesses.  One of these excesses is the politicization of the court that allows surveillance of private citizens in the US.
There is no doubt that it has been manipulated badly to try to politically ambush President Trump.  All of the indictments to date have zero to do with the thrust of the investigation.  Moreover, the Clinton Foundation and President Clinton and HRC all have very openly colluded with the Russians.  This is an abuse of power as it was never intended.
But there you go.. all in the name of fighting some nebulous foreign enemy.  It just goes to show how wise our Founders were.