Today is National Wreaths Across America Day, December 21, 2019… please remember in your thoughts and prayers, those who gave all that we might live free.   Thank you!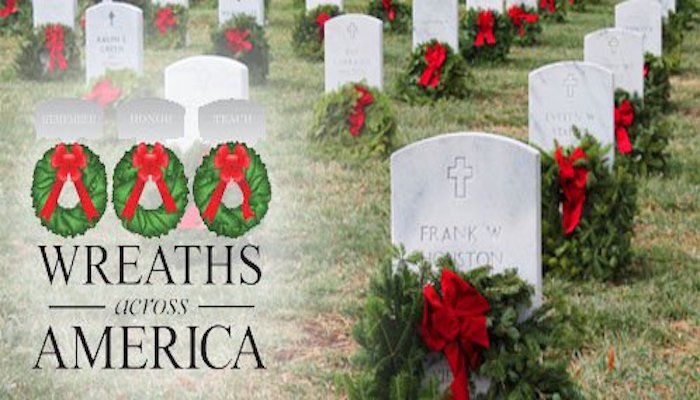 For Those Beneath
by Michael Romani

Sharing a bottle of mental whiskey
A shot for you; another for me
That is to say at least figuratively
Shared with those lying here silently

That no greater love can be given
Than to lay down lives that were driven
By lofty beliefs in those things greater
Believed before then or maybe later

Here on this shortest of days
And longest of cold, frigid nights
We come here to bear our witness
On this day of winter solstice

Having entered the arched gates
Like a trilithon pointed ever outward
In honor of those whose fates
Aimed so much higher and then toward

Heroes all, who now at peace lay beneath
As we reverently place each single wreath
By some who have borne the battle and others
Who simply recognize their fallen sisters and brothers

Sol Invictus falls to Yalda on this long night
While we know that our mortal prayers are heard
By He who stills the very breath of northern wind
Keeping dear the halcyon memories of lost friends

We lay the garland of strength at each headstone
In commemoration and in hopes that we might atone
For every Christmas that will now be amiss
As reveille sounds and with a salute we dismiss

Looking on the endless rows of evergreen rings
Hoping for such peace as these ceremonies by bring
There in the mix of pine and freshly scented flowers
Are the lost dreams remembered at this fallen hour 

Symbol of victory of eternal life over death
These feeble gestures are all that we have left
In purity, these are held out as crowns of glory
Despite the tears and rage and never finished stories

(c) December 21, 2019  Michael Romani
All Rights Reserved
In America, 22 Veterans die by their own hand each day.  An ungodly number of Veterans sleep on the street homeless due to a number of reasons.  War does not end at the cessation of hostilities.  Sometimes in the heart and soul of those who served, it goes on as it replays on and on despite their best efforts to find peace.  Please remember the men and women who serve and have served our country during this holiday season.